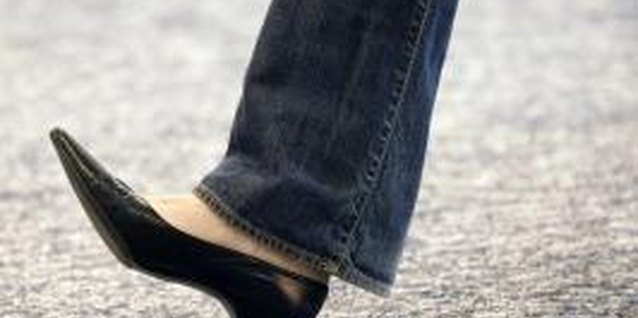 Just because you've spent the afternoon creating the perfect hem on those too-long jeans doesn't mean that it has to stay looking just sewn. Giving your denim a vintage blast is easy if you know how to get a worn, and not broken down, look right. Instead of leaving your hem with a perfectly preppy straight edge, take some time to fray the edges and get a distressed style that will turn your jeans from typically traditional to totally terrific.
1 Put on your jeans. Bend down, while still wearing your jeans, and mark the bottoms with white chalk to see where you will fray or shred the denim. Stand up and check the marks to make sure that they are acceptable to you. Wipe off the chalk and repeat the process if needed.
2 Place your jeans face up on a flat surface. Insert a thin utility knife mat or piece of scrap cardboard between the layers of each leg to keep the cuts from going all the way through. Make slits or cuts with the knife or a pair of scissors. Turn the jeans over and repeat the process on the back bottom.
3 Pull the edges, not the hem, of the cuts out to fray the denim fabric fibers. Rub them between your hands to make the bottoms look worn.
4 Throw your jeans into the washing machine and dryer. The spinning of the wash cycle and tumbling of the dryer will further fray the edges without you having to do any actual work.
Items you will need
Scissors

Utility knife

Utility knife mat or thick cardboard

Sandpaper

White chalk
Tips
To get an even more distressed look, take the style throughout the entire pair of pants, from the top to the bottom. Worrying about ruining your newly hemmed pants may make your worn style end up looking simply sloppy.

If you don't want to use scissors or a knife, try an alternative such as sandpaper. Rub the coarse surface across the bottom of the pant legs, avoiding the hem itself, to get a worn-in look. The result will look like you have dragged the bottoms of your jeans across a rocky surface while working. If the paper seems too flimsy for you, try a sandpaper block to distress the bottom of your pants easily.

Remember, you won't need to wear out or cut the entire hemline, as it would simply undo all of your sewing work. Instead, pick and choose specific spots to look worn.
Warnings
Take caution with the knife and scissors. Always stay aware of where the blade is.

Avoid cutting the hem or the hemmed part off. Don't pull out the stitching or cut through the thread.
Photo Credits
Comstock/Comstock/Getty Images