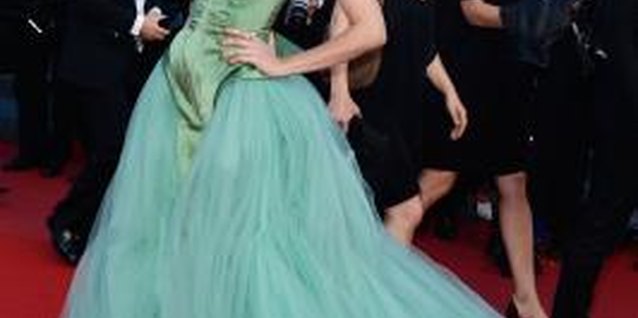 The most utilized fabric in formal attire is quite possibly the most unpredictable and finicky of all fabrics--tulle. With its twofold nature--both airy and elegant--tulle is used to thicken, screen and flare. It is a gauze-like fabric often used as a veil for brides and a tutu for ballerinas. If you've ever been near a bride or ballerina's dressing room, you'll know that a steamer is always nearby, because steam is the only thing that can get keep tulle wrinkle-free.
1. Steam the Wrinkles Out
1 Hang your garment on your steamer's hanger pole. If your steamer doesn't have a hanger pole, hang your garment on a closet door or anywhere available that allows you to steam your garment.
2. Steam the Wrinkles Out
2 Pour water into the steaming appliance.
3. Steam the Wrinkles Out
3 Wait approximately 5 to 10 minutes for the water to start evaporating inside the appliance, and steam out the wrinkles with the nozzle apparatus.
4. Pop your Garment in the Dryer
1 Spritz or splash your garment moderately with water.
5. Pop your Garment in the Dryer
2 Turn your dryer dial on low heat for approximately 3 to 5 minutes and throw your garment in the dryer.
6. Pop your Garment in the Dryer
3 Hang your garment in an open space after no more than 5 minutes in the dryer. As it cools, the wrinkles disappear.
7. Iron the Wrinkles Out
1 Fill your clothing iron with water.
8. Iron the Wrinkles Out
2 Turn the dial to steam.
9. Iron the Wrinkles Out
3 Glide the iron over the wrinkles in your tulle without touching the iron to the tulle garment, as if you were using a steaming apparatus.
Items you will need
Garment steamer

Clothing dryer

Iron

Water

Water spritz bottle
Tips
Avoid prolonged crinkling of your garment against other items.

When tulle is not worn, limit its exposure to open air. Keep it stored in plastic covering.
Warnings
Avoid steaming your tulle garment near wood. Steam will ruin the wood finish.

Do not place tulle inside a tumbler dryer on high heat or for longer than 5 minutes; it will make the fabric permanently crinkled and brittle.
Photo Credits
Pascal Le Segretain/Getty Images Entertainment/Getty Images